The climbing park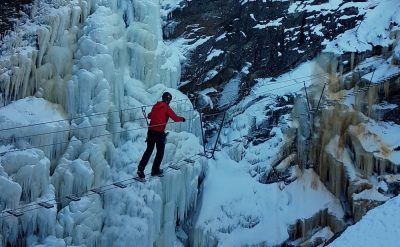 Overview:
Our high rope course park can also be used in the winter. In the winter we separate the activity between to different offers; 4-hour climbing or 2-hour gorge.
What to expect, 4-hour climbing:
Our skilled instructors from Rypetoppen Adventurepark Meråker provide a day with both adrenaline, activity joy and the sense of achievement. When you arrive we will help you with the harness for use in the high rope courses, we assist you with the equipment and provide you with the necessary safety training before our guides go with you in the park.
Our high rope course park has 22 courses in trees and mountains with a total of over 20 zip lines, which are 30-230 meters long and up to 40 meters above the ground. The courses are at different heights and levels of difficulty where we make the whole family, groups, teams and school classes have fun and experience achievement together.
What to expect, 2-hour climbing:
This fits those groups who only want to experience the climbing slopes in the gorge. We start with the necessary training before we go to the gorge, where we have our three most spectacular courses. Here it is optional which courses you take and you can choose from:
Ørna: Our most popular course, and it consisting of zip-line only! Here you can fly through three zip lines, the number two being furthest with its 230 meters and 30 meters up in the air.
Fjellvåken: A long trail with via ferrata (rock climbing in the mountain) before it ends with two long zip-lines over the water. Becaouse of the long climb at the start, this is a relatively heavy and demanding course.
Fossekallen: Our most spectacular course. It starts with a short but demanding, via ferrata (rock climbing in the mountains), before taking the zip-line to the beautiful waterfall, Brudesløret. Here you will go on a smal ana wiggly bridge right next to the waterfall 30 meters above the ground, before reaching a 210 meter long zip line that goes 40 meters above the water.
You need:
– Suitable clothing for the weather conditions
We will provide:
– Necessary training and climbing equipment
– Hot Beverage
Nice to know:
– Some courses may be closed due to weather conditions
– Gloves may be practical regardless of temperature
Price:
4-hour climbing: 550, – per person
2-hour climbing: 370, – per person