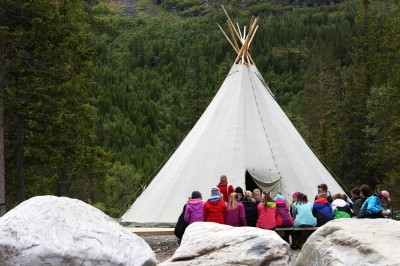 Do you want stay overnight on the waterfront in the park? We have 16-, 25- and 50-person lavvus on ground floors.
Rental includes canoe / SUP evening time after 6.00 PM. When staying overnight the heating cottage in the climbing park is at your disposal. We provide fire place and grilling facilities. Here you can enjoy the beautiful scenery nearby Brudesløret. There are some great hiking trails in the area. And you can even bring your fishing rod. Fishing license can be purchased here. (In Norwegian only)
Overnight accommodation can be booked on the web or for larger groups at post@rypetoppen.no. Check-in before 6.00 PM, and check-out before 11.00 AM.